Our minpaku "Concept House Hoshida" was broadcasted on a TV show ! Nomura Koumuten, Osaka Pref.
2018年 03月 22日
【Our minpaku (lodging place) "Concept House Hoshida" was broadcasted on a weekly TV program !】
Many of you must be familiar with the term "minpaku".  What about "minBAKE" ?
It's a shortened term for "minpaku vacation rental".  (As Japanese language lacks "v" sound, we say "bake" instead of "vac".)
The popularity of minpaku nationwide opens opportunities for new services such as "minbake" – more luxurious and "vacation-like", compared to the regular inexpensive minpaku, yet still remains financially reasonable compared to the hotels.  Some are even better than hotels; they have larger spaces and better equipments, and give the customers to somewhat domestic feeling – as if you were spending time of vacation at your favorite villa in resort area.  Some trend-setters on the internet and media are already using the term nowadays.
Our Concept House Hoshida was introduced as one of such still rare "minbake" places.
The show was on March 6th, at ABC Asahi Broadcasting channel called "Mr. A's story".  ('A' stands for the name of the host, a well-known comedian group 'Ameagari'.)  They said that the year 2018 to be the "dawn of true minpaku era", as the regulation passing in June invites a lot of newcomers to join the market.  The TV personality Mr. Ujihara of 'Rosanne' (another famous comedian group) visited Concept House Hoshida, exploring room by room, and the camera was following him.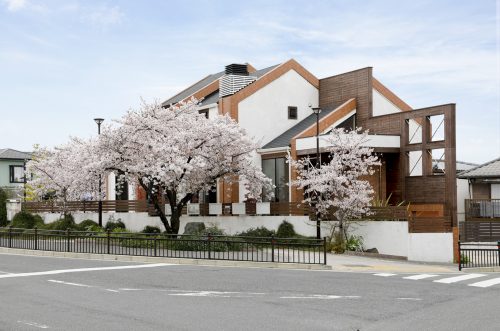 Concept House Hoshida was originally designed as a show-house for our pre-customers to see and experience the construction in real.  It is a mansion with a large living room, an easy-to-use island kitchen, a comfortable Japanese room, and 4 bedrooms, where up to 10 people can stay.
When we hear the word 'minpaku', we automatically assume the visitors would come from abroad (as introduced on the program).  However, that's not always the case for us, and there are many domestic visitors as well, such as a group of college students having private parties – cooking together, feasting, and talking all night in a big home just this weekend, without their parents' knocking on the door to keep quiet and to go to bed already.
Last but not least, there are charms besides the building; several cherry trees are standing beside it where you can enjoy 'hanami' in the spring.  There are many nice viewing 'hanami' spots here in Hoshida, so how about some cherry-blossom viewing, then a banquet afterwards at Concept House Hoshida ?
Concept House Hoshida is located just 2 blocks away from Nomura Koumuten head office.  You can take JR Gakken-city line, off the train at "Hoshida" station, and take a nice 5-minute walk, straight from the station.  There is a supermarket nearby, so you can decide whether to go to restaurant, or prepare your own dinner in the big kitchen.
The reservation status is placed in the "vacation rental" at "Ikkyu.com" as high-quality accommodations. https://www.ikyu.com/vacation/00050404/
Airbnb:
https://www.airbnb.jp/rooms/17813140?s=Bi4WFCo-
If you are planning to build your home-sweet-home here in Kansai are, we Nomura Koumuten might be your solution.  We have many show-houses where you can visit.
https://nomura-k.co.jp/ (Japanese only)
https://www.instagram.com/nomura_koumuten/